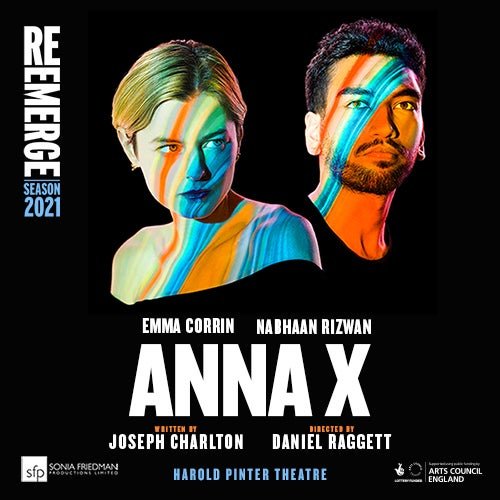 Call :phone to book directly from the theatre or Subscribe
Anna X
Are you ready for a brilliant trilogy consisting of three fantastic debut plays, each as exciting and unusual as the rest? It's so good to be able to announce the latest series of plays from the highly respected Sonia Friedman Productions, entitled RE:EMERGE. The trilogy takes place at the Harold Pinter Theatre from May 2021, and each production stars some wonderful acting talent. Welcome to Walden, J'Ouvert and Anna X, each an exciting tour de force of brand new stage entertainment.
Anna X is a fantastic debut play by Joseph Charlton. It stars the Golden Globe Award-winner Emma Corrin and the Royal Television Society's 2019 Breakthrough star Nabhaan Rizwan as Anna and Ariel, two women who are totally immersed in the non-stop, frenzied world of New York fashion shows, private views, and partying. It's a challenge to keep up, but when you're determined to become your own dream, create your own perfect identity, what can a girl do? As it turns out, there's a price to pay for your heart's desires. Come and find out what that price is!
Audience Latest Reviews
Reviews Summary based on 3 reviews
General:
What to expect
Acting:
Music:
Costumes:
Story:
Lighting:
Recommendations
Anyone:
Families:
Teenagers:
Young Couples:
Theatregoers:
Captivating Hanna-Liis, 03 Aug 2021
Emma is so talented!!! Yunjie, 24 Jul 2021
Interesting set and contemporary storyline. Two hander well played by both actors. Suitable for over 16s and older. An enjoyable experience.
Maggie, 23 Jul 2021